This is the second of four snippets that I will post. Hope you enjoy. 😉
**Preorder: 6th September 2013 (the book becomes available to preorder through the TEB website)
**Prerelease: 20th September 2013 (the book becomes available to buy through the TEB website)
**General Release: 18th October 2013 (the book becomes available through all outlets)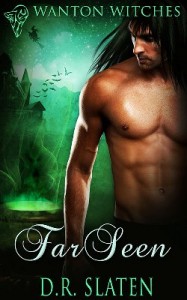 Here's the blurb:
Taking a break from finding the cure for a magic sickness killing witches, Evangeline (Evie) Parker picks up Drew for a night of hot sex. One night is not enough, however. In strange twist of fate, Trent, Drew's partner also comes into Evie's life. One night is definitely not enough when two becomes three. As they come together, they realize while separately they are good, together they are great.
All Hallows Eve is the time when the cure to the magic sickness is predicted to make itself known. Combining magic and sex on that special night cures more than the magic sickness afflicting the witch community, it also cures three lonely hearts.
FARSEEN is hot and sweet in a small tasty bite. It is filled with sex magic, lit up chakras and hearts slowly opening up to each other.
Snippet:
When she woke up, it was to him staring at her. He smiled at her when she opened her eyes. "Morning, Evie."
"Morning, Drew," she yawned at him. "Need coffee."
She was so not a morning person. And she needed caffeine like a heroin addict needed their fix in the mornings.
Drew reached over and picked up the phone on the nightstand. She heard him tell the person on the other end that they needed coffee and two American breakfasts ASAP. Then she felt him push some magic through the line. No doubt their room service would be showing up pretty quickly, from the push she felt.
"You are my god," she told him when he hung up. "I need caffeine and food, in that order."
Not real sure about the whole morning-after protocol, she was relieved to sense that he wasn't going to just shove her out of the door. Not that she had any illusions that they had a relationship or something after last night, but she still didn't want to feel all weird and what not. Plus, maybe she could get a little morning action before she took off to her stillroom.
He was drifting his fingers lazily over her skin as she burrowed closer to his body heat. They had just started fooling around with more serious intent when she heard the knock on the door. Damn that push he'd sent. Just a little longer and she would have had some morning joy.