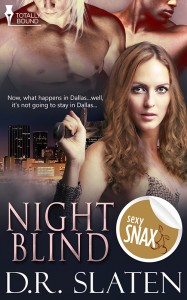 Part of the OtherKind series, Night Blind is Part 2 of the Prequel. FarSeen was Part 1. Part 1 was about Evie. Part 2 tells Ellie's story.
Preorder: 14th March 2014 (available to preorder through TEB website)
Prerelease: 28th March 2014 (available to buy through TEB website)
General Release: 25th April 2014 (book becomes available everywhere)
Blurb:
As Lucien, Rory and Ellie navigate the intricacies of a full triad, including one man new to man-love, they also have to seek and destroy the source of the sickness afflicting witches.
Every Vampire Lord needs a shifter bodyguard. Rory has been Lucien's for a while now. And although Rory's been protecting Lucien's body, Lucien has just been plain lusting after Rory's body. Unfortunately, Rory's been rebuffing Lucien's advances. That is, until Ellie comes along with her witchy bad self. The Witch Council is sending her to Dallas in her capacity as Enforcer. And to make matters more interesting, they're also sending Lucien and Rory.
Ellie's mission is to find and destroy the source of the witch sickness. Along the way, she uncovers Rory's reason for hesitating in accepting Lucien's advances. Rory's never been with a man before. As a result, Rory and his wolf were confused when Lucien came on to him. But with Ellie's help, Rory's not confused anymore. Now, what happens in Dallas… well, it's not going to stay in Dallas.
As Lucien, Rory and Ellie navigate the intricacies of a full triad, they also have to navigate the treacherous home of the Dallas Vampire Lord during the winter solstice. Because something is rotten. And Ellie's pretty sure it's the Dallas Vampire Lord.
Snippet:
The door behind her opened. Her magic flared without any prompting from her. Only one other time had her magic reacted so violently without her volition.
She knew without turning around that Lucien and Rory had entered the Council Chambers. Great. Just what she needed.
"Good evening, Council Members." Lucien's voice was like liquid silk. He didn't just talk, he all but purred when he spoke. Even after all the years he'd been alive, he retained just a hint of his French accent from his heritage.
It was unbelievably sexy.