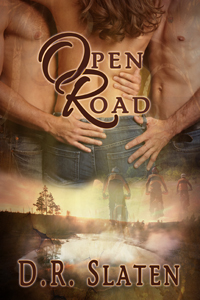 Just a quick note about Open Road. It was first published in Jupiter Gardens Press's anthology Hot Rods, Hot Bods back in July of this year. The story by itself will be releasing on September 26, 2013. It's a little longer than a short story and a little shorter than most novellas. The term I've heard bandied about is novelette.
In any event, Open Road will be available as a stand alone story with it's own beautiful cover. The cover is being shown here for the very first time. How awesome is that? I don't have links to the individual story yet. As soon as I do, I will add them to this page and the home page where I announce stuff as well as the Titles page. Meanwhile, in celebration–even though it truly isn't a first time release, I thought I would add a small little snippet from it in advance of it's individual release date.
I know the story's short. It was meant to be. But there's more coming. Because like many of my stories, my brain works in series. And with these three people, Open Road is just the beginning. It tells the tale of how Zoe, Deke and Nathan met, what has propelled them toward each other and their future that will be teased out in yet-to-be written books. Because unlike my other series that I'm currently working on, the books in this series will be about Zoe, Deke and Nathan as they navigate their new relationship in addition to their careers as a stunt woman- her, and bounty hunters- the boys. A motocross racer turned stunt woman and two hot bounty hunters couldn't get into any trouble… could they?

Starting Monday, if you leave a comment on the post about the Six-Pack Stud-A-Thon Blog Hop and Giveaway, I will randomly pick a winner to get a copy of Open Road. Click on the Home Page button to see the prizes being given away as part of the Grand Prize- one of the listed prizes are undies! OMG. Seriously? I hope they are clean… ! lol
Blurb:
Zoe Akio is a professional dirt bike racer who decides to ride her motorcycle across the country and think about a future post motocross racing. Her manager hires two bodyguards, Deke and Nathan, to travel with her. The three weeks with the three of them in close quarters changes all of their lives as a new, unexpected road opens up.
Excerpt:
"Finish her," Deke commanded. "I'm dying over here."
Nathan slid his finger forward and began to work her clit. Fast, furious without being too hard. He paid attention to her reaction. As soon as he could tell he had the proper pressure and speed, he kept it up until she came with a deep shudder. Nathan swallowed her moans with his mouth.
When he pulled back she was dazed. And incredibly aroused even though she had just come, as if the adrenaline rush wasn't doing enough to ramp up her body. Those two were a lethal combination. She couldn't believe they had brought her off in the parking lot of her favorite bar. And she had wanted it. More than enjoyed it.
She wasn't normally so free with her affections. At least not to strangers she'd just met in a bar. But Deke and Nathan weren't really strangers. They were her bodyguards. Besides, she'd lived her life in a tight, narrow bubble for so long, she'd never had wild and crazy like many of the other women she knew.
She'd never even had a one-night stand or picked up a guy in a bar. Her life, up until this moment, was defined more by what she hadn't done than what she had.
She wanted to start a new chapter in her life. Part of that was grabbing for the brass ring when the ring presented itself to her. All tied up in a bow with Deke and Nathan underneath it. She could have stopped and pulled back. Withdrawn. But to hell with living her life confined. She wanted to experience life in large, joyful gulps, not take tiny sips.
Hot Rods, Hot Bods Buy links: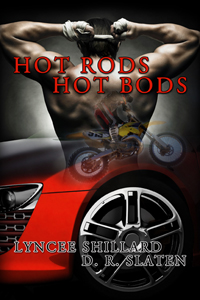 AllRomance
Barnes and Noble
Coffee Time Romance
Amazon
BookStrand