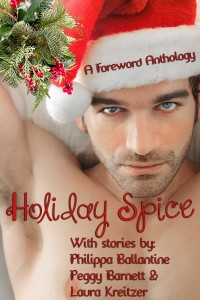 Here's a little treat from my upcoming soon-to-be released short story, HOMECOMING, put together by the good folks at Foreword Literary. It's being released in a holiday anthology called HOLIDAY SPICE. I hear plans are in the works to have this out and in your grubby little hands by early November if possible.
I've seen the lineup of writers listed in the table of contents for this one and it's a goodie. Should be some hot, hot, hot stories in there to help warm you up on a cold fall-ish/winter-y night. I'm pretty sure this is their first Holiday anthology. I'm betting it won't be their last. It would be a good thing to get in on the ground floor and get the very first one and then each one every year after to make yourself a little collection. Plus, you might discover the next up and coming hot author in one of the anthologies. If my experience with past anthologies is any indication, then several of the authors you find in current anthologies will be the next Sylvia Day or something.
Anyway, here's my story with blurb and snippet below.
Blurb:
Tessa's known Nathan for most of her life. She should. He's her younger brother's best friend. Which means she's also his elder by two years as well. They're both home for the Christmas holidays. And for the first time, they're together.
Tessa knows her brother isn't going to react well. She doesn't know how everyone else is going to react. What she does know is that she wants Nathan more than she's ever wanted anything or anyone. This homecoming for the holidays could be the worst in the history of holidays, or it could be the best and the start of more yet to come.
Snippet:
"Babe, you look beautiful," Nathan whispered from behind her.
She hadn't heard him come up behind her.
Hearing his voice gave her an unexpected thrill. A fluttery feeling that began in the pit of her stomach and radiated out. God, she had missed him. Which was so funny. Nathan had been around her, her brother and in their home constantly when they were all growing up. Sure, she'd noticed he was hot and growing up hotter. But he was Rick's best friend. So while she noted him in a vague sort of way because he was her brother's friend, she hadn't noticed. Not really
When he'd come and stayed with her for some job interviews in DC, she hadn't seen him for several years. They kept missing each other at holidays. Not only had he grown up but he had become beyond hot. They'd gotten a little tipsy that first night and then everything had changed. She was pretty sure they hadn't dressed or left her apartment the entire he'd been there. Ordering food in and staying in bed when they weren't eating or showering. Or the few times he left for an interview.
Now he was moving to DC. He wanted to move in with her. And she wanted that too. She was just unsure of how their parents would react. And she was pretty sure that Rick would go ballistic.
Rick and Nathan had been best friends since grade school. She so did not want to get in the middle of that friendship. Not at all. But she refused to give up Nathan. Which meant that this Christmas was going to get tense.
"Hey, Nate."
"I grabbed some mistletoe. Come with me. Let's find a secluded place so I can put it over your head and you can kiss me senseless," he said, his lips tipping up as he teased her.
"Nathan," she admonished. "We can't make out in my parent's house."
"Yes, we can," he disagreed. "Either come with me and find a hidey-hole or I'm going to kiss you senseless right here."