This will be the first of four or so FarSeen snippets that I will post until the official unofficial release date(s).
**Preorder: 6th September 2013 (the book becomes available to preorder through the TEB website)
**Prerelease: 20th September 2013 (the book becomes available to buy through the TEB website)
**General Release: 18th October 2013 (the book becomes available through all outlets)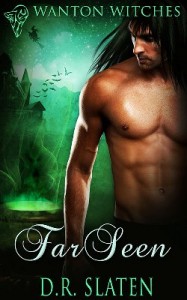 Here's the blurb:
Taking a break from finding the cure for a magic sickness killing witches, Evangeline (Evie) Parker picks up Drew for a night of hot sex. One night is not enough, however. In strange twist of fate, Trent, Drew's partner also comes into Evie's life. One night is definitely not enough when two becomes three. As they come together, they realize while separately they are good, together they are great.
All Hallows Eve is the time when the cure to the magic sickness is predicted to make itself known. Combining magic and sex on that special night cures more than the magic sickness afflicting the witch community, it also cures three lonely hearts.
FARSEEN is hot and sweet in a small tasty bite. It is filled with sex magic, lit up chakras and hearts slowly opening up to each other.
In the beginning

…

Chapter One

 

 

 

Tonight was the night. She was going to get laid—have a bona fide one-night stand. Christ, it had been so long since another person had given her an orgasm. She needed one. She just needed, period.

Hot, slightly slutty dress. Check.

Killer fuck-me pumps. Check.

Blood-red lipstick. Check.

Several condoms. Check and double check.

With a last glance at her reflection in the mirror, she walked out of the door on a mission. A mission to have hot, sweaty, anonymous sex. It was on.

She glanced around the ballroom, taking in the sights and smells of people who were drinking too much, talking too loud and just trying too hard. Maybe a business cocktail function wasn't the best place to pick up a random guy. She smirked at herself. Oh well, if she did some networking then the night wouldn't be a total bust. So her perusal of the room went from looking for Mr Goodbar to whether she knew someone to start off the evening's round of introductions and small talk ad nauseam.

She would need a drink for this. Disappointment always needed a cocktail…or two. Smiling, she walked to the cash bar and ordered another vodka tonic.

As she turned from the bar, her elbow struck a solid mass to her right.

"Oops. Sorry," she murmured as her glance went from her drink to the face of the man she had just elbowed in the side.

Holy shit. He was gorgeous. Tall, blond and beautiful. Not pretty-boy beautiful, but the kind of beautiful that made a man stand out in a crowd. He had laugh lines around his mouth, kind eyes and hair that looked as if he'd run his fingers through it a time or two already. So it was the kind of beautiful that wasn't polished, but was authentic. In a sea of plastic smiles and fake personalities, he stood out.