I've been slowly replacing my family's wheat products with Einkorn wheat-mostly. Some wheat strains are pretty old and haven't changed too much. One is durum wheat used to make semolina pasta. The ancient grain from which durum is derived is khorasan wheat, trademarked and sold as Kamut. To make really good pasta, durum/semolina/khorasan wheat is a MUST. So I've decided to use mostly einkorn, and a little  Kamut wheat. I've done this slowly so that the replacement has been fairly painless.
It is tempting to walk down the gluten free aisle and/or the specialty bread aisle and pick breads that use ancient grains, or use grains other that wheat. However, this is a trap. I can't say definitively that all store-bought stuff have things in it that are not so good for you. I mean, half the time I can't even pronounce some of the chemicals used. Part of eating better is making the food myself so I can control what is put in the recipes. To that end, I'm buying a bread maker at some point so I can make my own bread loaves. Because the thing I've noticed when I eat only einkorn wheat is that I don't have the continued salty/oily food craving that so often comes when I eat bread of any kind. I can't wait to see what happens when my house is one hundred percent modern wheat/grain free.
That was my success. My failure is recipe related. Seriously, I am not an awesome baker. Not like I can cook. So it should come as no surprise that my Cioppino came out FAB, but my bread loaf was a bust. Don't get me wrong, it was edible. Just not great. And bread should be great. That's part of the draw. I didn't like how hard the crust became. So I am thinking a bread machine might help with this issue. Especially if I get one that has different crust settings. At least, that's what I'm telling myself.
Not to disappoint, let me leave you with this success. Summer fruit crostata. Crostatas are rustic fruit tarts. Free form, if you will. And they are delicious. And did I mention that I am not the best baker? Well, crostatas are extremely forgiving. EXTREMELY. 😉 You can use almost any fruit you have. I like berries and peaches, or strawberry and rhubarb, or you can come up with your favorite fruit combo. The picture for today's recipe is my peach and mixed berry crostata made from einkorn wheat. It was delicious.
Fruit Crostata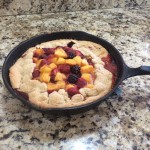 Ingredients
1 1/4 cup(s) (plus 1 tablespoon) all-purpose einkorn flour
1/4 cup(s) (plus 2 tablespoons) sugar
1/8 teaspoon(s) salt
1/2 cup(s) (1 stick) unsalted butter, softened
2 large eggs, lightly beaten
1 cup(s) raspberries
1 cup(s) fresh blackberries (<— or a combo of fruits to make 2 cups)
1 tablespoon(s) fresh lemon juice
1 tablespoon(s) turbinado sugar
Directions
1. Make the dough: Combine 1 1/4 cups flour, 1/4 cup sugar, and salt in a large bowl. Form a well in center of the dry ingredients and place the butter and 1 egg in the well. Using your hands, mix the ingredients into a soft, pliable dough. Form it into a 4-inch disk and place it on lightly floured parchment paper. Lightly dust the dough with flour and roll it into a 10-inch circle. Place dough with parchment on a baking sheet, cover the dough with plastic wrap, and chill for 10 minutes. (I like to chill my dough for at least 30 minutes, preferably up to an hour or more- it has to do with the butter getting real cold. So you can follow the recipe or follow my suggestion. I know which one I would do. lol). Preheat oven to 375°F.
2. Make the crostata: In a small bowl, mix remaining flour and sugar and set aside. Remove the dough from the refrigerator and evenly spread the flour and sugar mixture on the dough, leaving a 1-inch-wide border around the edge. Place berries on top of the mixture and sprinkle with lemon juice. Fold the 1-inch border over top of the berries to form a 9-inch crostata.
3. Bake the crostata: Lightly brush the top of the crostata dough with remaining beaten egg and sprinkle with turbinado sugar, if desired. Bake on the middle rack of the oven — about 35 minutes, or until the top turns lightly golden brown. It normally takes about 40-45 minutes for me to get the desired color on the crust. Remove from the oven and slide crostata with the parchment paper onto a wire rack. Or if you've used a cast iron skillet like me to bake your crostata, just leave it in the skillet to cool. Cool for 1 hour. Serve warm or at room temperature.
Tip: Make real whipped cream. Serve the warm crostata with the best vanilla ice cream you can buy and a dollop of fresh cream. You will think you've died and gone to heaven. I don't have a huge sweet tooth. I maybe indulge in desserts a few times a year. Crostatas are always something I can't resist when I make it. It's just that good.