The Chinese New Year is on January 31st this year. It's the year of the Horse. Chinese astrology is kinda fun to look up and read about. It is vastly older than most Western astrological systems.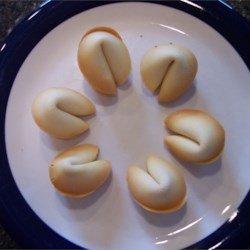 In honor of the Chinese New Year (yes, other Asian countries also celebrate this New Year even though it's called the Chinese one. lol), I thought I'd share a fortune cookie recipe. Red is the lucky color so make the little fortunes inside red ink on white paper or red paper with a dark or metallic ink.
Enjoy!
Fortune Cookie
3 egg whites
3/4 cup white sugar
1/2 cup butter, melted and cooled
1/4 teaspoon vanilla extract
1/4 teaspoon almond extract
1 cup all-purpose flour
2 tablespoons water
Directions
Preheat the oven to 375 degrees F (190 degrees C). Grease cookie sheets, or line with parchment paper. Have fortunes ready to go on small strips of paper.

In a large glass or metal bowl, whip egg whites and sugar on high speed of an electric mixer until frothy, about 2 minutes. Reduce speed to low, and stir in melted butter, vanilla, almond extract, water and flour one at a time, mixing well after each. Consistency should resemble pancake batter. Spoon the batter into 3 inch circles on the prepared baking sheets. Leave room between for spreading.

Bake for 5 to 7 minutes in the preheated oven, or until the edges begin to brown slightly. Quickly remove one at a time, place a message in the center, and fold in half. Fold the ends of the half together into a horse shoe shape. If they spring open, place them in a muffin tin to cool until set.
* try lemon extract instead of vanilla or a different taste.
** don't overbake the cookies or they won't be flexible enough to mold.
*** they are also good dipped in chocolate.