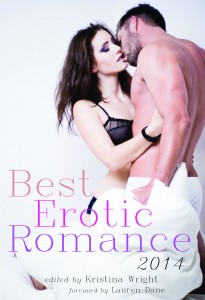 My short story, Show Me, released last month from Cleis Press. Kristina Wright was editor and Lauren Dane wrote the forward. There are lots of really good writers who have contributed to this wonderful collection. The stories are hot which is why they are included in a Best EROTIC Romance 2014 collection. That's all the warning you're gonna get cause the title should be self-evident. Seriously.
Because my story is a short one, the snippet from it will be short as well. The book is BIG, though. So check my story out as well as all the others by some pretty damn fabulous writers.
Here's what one review said about my story. Click on the link and it'll take you to her Amazon review (she left it on Goodreads as well if you prefer to read your reviews there) which includes all of the stories in this anthology, not just mine:
Show Me by D.R. Slaten

Dani's boyfriend wants to watch her pleasure herself. – Good, short and sexy story. Her embarrassment afterward was rather amusing.

~By MsRomanticReads "Michelle" (Texas)
Amazon Reviewer
Snippet:
I slowly rolled over. Cupping my breasts as I spread my legs. Exposed. Bare.
"Show me," he whispered. So softly that I had to strain to hear the words he spoke. "Let me see, baby. Show me more."
I kept my eyes downcast. I couldn't look at him. My nerve wouldn't have withstood his direct gaze.
I hadn't realized how much I would like his eyes on my, watching me. But even as I knew that I liked that he stared at me, I still couldn't look at him.