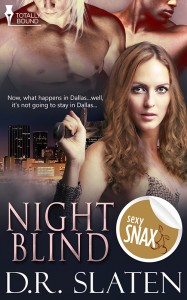 Night Blind is up for Pre-Order today on the Totally Bound website.  Click on the picture and it should take you straight to the page. It goes on sale everywhere next month on the 25th, but will be available for early download at Totally Bound on March 28.
This is the story of Ellie, Lucien and Rory. It is Part 2 of the Prequel to the OtherKind. FarSeen, which was released last year as part of the Wanton Witches Collection, was Part 1 of said Prequel.
Both are hot, serious,  and funny. Plus, they have vampires and werewolves and witches and magic and sex and all sorts of good stuff. The two female lead characters are sisters and witches. FarSeen starts the story and Night Blind ends it. And although, they can both be read alone, I think the story makes more sense when read together. But what do I know? I just write the damn things. 😉
This series has some bad bad guys. But it also has a great story about happily every afters and the good guys conquering in the end and all that comes with tales involving the forces of good against evil. And it has some hot sex. Did I mention most of these stories are menage, some are menage and more, and some are couple pairings. But the vast majority involve three players.
Here's the blurb for the book in postcard form.
Enjoy!