I moved to Virginia from Alaska not too long ago. I didn't know I was moving to crazy. I mean, shit, I'm from Alaska. Alaskans have DEFINED crazy in many instances. Seriously. I love Alaskans, don't get me wrong. They are warm-hearted and resourceful and just all around fabulous people. But they're just a little nuts, too. I mean where else are there gun-toting citizens riding around in pickups with shotgun racks and bumper sticker with both Libertarian Party kudos and marijuana leaves? Yup, you got it… pot-smoking rednecks. Gotta love 'em.
So I come to Virginia expecting normal regular rednecks. To a place where people are proud to be in a state which was… part of the original 13, with land grants given to them by peers of the British realm, Daughters of the American Revolution, all raising horses and sitting around drinking tea. Instead, what do I find?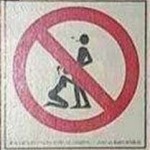 A frickin' Attorney General, Cuccinelli, who wants to reinstate the sodomy laws so that no oral sex can be had by consenting adults. Any consenting adults. Even those who are married and LIKE oral sex. Even if you're gay and that's just how you have sex. Even if you're 60 and want to try it without the dentures on your 70 year old widowed neighbor. No munching at the Y. No blowing the horn. No trips on the hershey highway. He wants oral and anal sex to be against the law, and offenders to be sent to jail and listed as registered sex offenders for the rest of their lives.
Can we say loco, boys and girls?
And disingenuous. Any first year law student knows those types of laws are unconstitutional. Have been for a while. Most other states' Attorney Generals know it, too. The previous Virginian Attorney General knew it as well. I can't help but wonder if Ken objects to getting his dick sucked, or if it's his wife who abhors the practice. Cause I gotta say, most in their right minds, are PRO-BLOWJOBS. At least, if you're doing it right. And a lot of times, even if you are doing it wrong as long as there is some enthusiasm behind the act. Same goes for rug munching. Gung ho goes a long way even when technique just isn't there. So I can't help wonder what Ken and his wife have been doing in the bedroom for Ken to hate oral as much as he does. And to hate on the Constitution as well.
As a writer of  the smut and the smex and naughty stories that get people to go bump in the night, I can't even begin to wrap my brain around his stance. Blowjobs are a staple in my books. They should be a staple in all of our lives. Oral lives on. And for real… it ain't going anywhere.
He's running for Governor. But his stance on blowjobs is why I would never, can't ever vote for him. Let's not even talk about his stance on making divorce HARDER or his anti-choice stance on abortion even to save the life of the mother or in cases of rape and incest.
Virginia. Cuccinelli. Welcome to crazy.