Home Run was released last month from Rebel Ink. Working on the next book about a soccer player, a secret/not so secret baby and all because of a one night stand. But until then, hopefully, this little bit from Home Run will tide y'all over.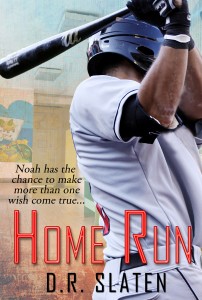 Blurb:
Daniela Sinclair is a trust fund baby who believes she can make a difference in the world by making the wishes of sick children come true. Noah Barker is a major league baseball player from a common background who agrees to fulfill a sick child's wish. Together they burn up the sheets. Unfortunately, they also cause a family member to burn in anger. In a stunning case of betrayal, the home run ending they both envisioned is threatened and they teeter on the brink of striking out.
Snippet:
She gave herself a once over in the mirror knowing Noah was impatiently waiting downstairs. She was running late.
After a last glance in the mirror finding nothing amiss, she grabbed her evening clutch and went to join Noah.
She saw him before he saw her and he took her breath away. He was cute in his baseball uniform. He looked smoking hot in a pair of jeans. She'd seen him in a suit and that particular look always turned her on. But in his tux he looked fabulous. She could only stand and stare at him.
He turned and his eyes widened. "You're lucky Reggie's a friend of mine or I'd lock you in the bedroom and never let you out."
"Umm, I'm not thinking that makes me lucky, Noah."
"Yeah, I hear you," he shot back. "I've always thought you were beautiful. But that dress? Shit, babe, beautiful doesn't do you justice."
"You are so getting laid tonight," she laughed at him.
"Already knew that," he said smugly.
She laughed as she went to him.