I figured since I just had a release a couple of days ago, I'd join this hop to give away a copy. It is a Halloween Hop and my book is part of the Wanton Witches Collection by TEB. FarSeen has witches and magic and menage. With two wicked warriors, a girl's Halloween is all about the treat.
I don't know about you, but Halloween is one of my all time favorite holidays. I not only like getting tons of candy, but I like the whole dress up aspect of the the festivities. There is just something about it.
The Grand Prize for this hop is 5 autographed copies of Unbound AND a Kindle Paperwhite. This rocks. I've been lusting after a Paperwhite for quite some time now. So I am envious of whoever is gonna win the Grand Prize. Much envy.
My prize isn't so fancy. It's just my ebook, FarSeen, in whatever format you specify. I put the blurb below. So if you're interested in winning a copy, leave me a comment. Any comment will do, but I would totally get a kick out of it if you'd tell me about your most memorable Halloween. Funny, Scary, Weird. Whatever.
If you've got some time, check out some of the other participants in the Hop and see if they have any themed prizes as well. Just because we're grown ups doesn't mean we don't deserve to have a few treats show up in our bags as well. Halloween didn't used to be all about the kids. And it shouldn't be all about the adults. Let the kids have the candy this year as the adults collect delicious reading treats. And maybe a new Paperwhite to read them on.
The rafflecopter and link list to other blogs is at the end of this post. Have fun. Less tricks. More treats! 🙂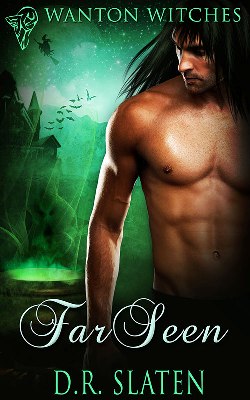 Blurb:
Taking a break from finding the cure for a magic sickness killing witches, Evangeline (Evie) Parker picks up Drew for a night of hot sex. One night is not enough, however. In strange twist of fate, Trent, Drew's partner also comes into Evie's life. One night is definitely not enough when two becomes three. As they come together, they realize while separately they are good, together they are great.
All Hallows Eve is the time when the cure to the magic sickness is predicted to make itself known. Combining magic and sex on that special night cures more than the magic sickness afflicting the witch community, it also cures three lonely hearts.
FARSEEN is hot and sweet in a small tasty bite. It is filled with sex magic, lit up chakras and hearts slowly opening up to each other.
** Snippets can be found here, here, here and here.