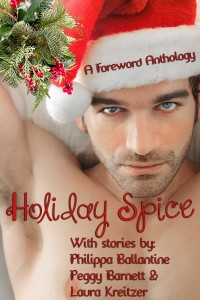 Table of Contents:
Homecoming by D.R. Slaten
A Not So Lonely Christmas by Jody Holford
Christmas Spice by Anna Leigh Keaton
Naughty or Nice by Ainsley Winter
Put a Bow On It by Zrinka Jelic
The Silent Stars Go By by Peggy Barnett
The Messenger by Kim Kasch
Office Santa by Jade A. Waters
Kinky Bells by Sidney Bristol
Snow and Love by Callie Russell
Secret Santa by Kyra Mason
Counting by Numbers by L.R. Wright
Christmas Sex Magic by Philippa Ballantine
The Murder King's Christmas by Jamie Leigh Hansen
A Second Chance by J.A. Pope
Guardian Angel by Laura Kreitzer
No. 18 by Megan Carey
Ruined by the Reindeersaurus Rex by Arthur A. Author
HOMECOMING Blurb:
Tessa's known Nathan for most of her life. She should. He's her younger brother's best friend. Which means she's also his elder by two years as well. They're both home for the Christmas holidays. And for the first time, they're together.
Tessa knows her brother isn't going to react well. She doesn't know how everyone else is going to react. What she does know is that she wants Nathan more than she's ever wanted anything or anyone. This homecoming for the holidays could be the worst in the history of holidays, or it could be the best and the start of more yet to come.
HOMECOMING snippet:
"That's not true," she took a deep breath and decided to come clean. She was not a teenager any longer and falling back to her old behavior patterns was childish and not who she was now. "Nathan and I have been seeing each other."
Her mother gave her a startled look. It turned thoughtful pretty damn quick though. Her mom's emotions changed like the wind. Capricious came to mind.
"I always knew Nathan had a thing for you," her mother said finally.
"What?" she wasn't sure she'd heard what she'd heard.
"He would stare at you like you were a tall drink of water and he was parched, just out from the desert, back when you were still kids," her mother explained.
"Really?" Tessa clearly didn't remember that. What she remembered was Nathan and her brother teasing her about her boyfriends and generally being a nuisance. Not Nathan, mostly her brother. Her mind had just lumped them all together.
"You ignored both Nathan and Rick mostly, but I watched Nathan watching you," her mother confirmed.