Welcome to the Spring Fling Blog Hop! Over fifty authors and bloggers have joined together to bring you some amazing posts, great giveaways and lots of fun! Don't forget to enter the rafflecopter to win a Kindle tablet, gift cards, paperbacks and swag and be sure to check out the other blogs taking part.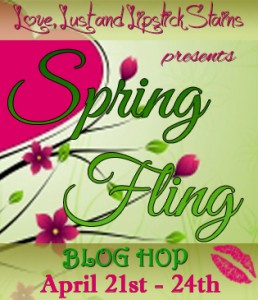 This is my second Spring Fling. I knew it was going to happen that way when I signed up for the blog hops. What I didn't know was just how crappy the weather sitch was going to be and just how much we'd need some more Spring. Maybe even a double dose of it. And if we can't get it in the form of Mother Nature, then I'm betting that getting it in the form of blog hops with giveaways that include reading material to help while away the time on cold not-so-Spring-like days is the next best alternative. Gotta love that.
Having NIGHT BLIND available for general release on April 25, the day after the hop ends and when I announce my winner, well… that's just more awesome, no? I put my warning blurb for NIGHT BLIND below so you know what you're in for when you buy the book. Don't forget to take a peek at the OtherKind page in Titles. 😉 In honor of this second Spring Fling and the release of NIGHT BLIND (an Other Kind Prequel Part 2), I'm giving away FARSEEN (an Other Kind Prequel Part 1) in ebook format. So leave me a comment as your entry to win FARSEEN. And don't forget to enter the rafflecopter belew and visit other author's sites to win more goodies.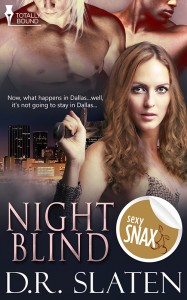 Night Blind
One shifter new to manlove, one witch new to threesomes, and one vampire who's been there and done that… a thousand times. At least. They're all new to each other. Add in crazed bad guys unleashing diseases of mass destruction, and well… what happens in Dallas, it's not gonna stay in Dallas. Light m/m action, some anal and LOTS of hot menage.
**Publisher's Note: This book is best read after FarSeen.
Snippet:
That the Council members had been waiting on her was obvious. They were milling around chatting instead of engaging in Council business. When they saw her, they all began to move toward their seats.
Shit, what they wanted to discuss with her must be important. This did not bode well.
Sara walked up to her, turning her head this way and that. "You look tired, Enforcer." Then she dropped her voice. "You need to get laid, child. Sex magic will verve you right up."
Oh, my God. Sara did not just say that to her. She was so old that most made allowances for her crazy utterances. Still, the head of the Council did not just tell her to get her groove on so she could get back some of her mojo. Good Christ. Talk about totally inappropriate.
"Enforcer, please be seated at the table," Sara, crazy old bat that she was, ordered.