I don't have a release date for HAT TRICK yet. However, I did just get my cover. It is really pretty and I like it a lot.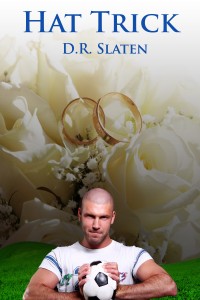 So I thought I would share the pretty with y'all. HAT TRICK is Book 2 of the Name of the Game series. The main male characters are all professional sports athletes and part of a guys' poker night group that gets together once or twice a month. And this series is about how each athlete falls, one by one.
The blurb for this book is below. As soon as I have a release date for this one, I will update ASAP.
Blurb:
Silas is a professional soccer player and Best Man at his best friend's wedding. Emma is in upper management and Maid of Honor at her best friend's wedding. When the Silas and Emma wake up the next morning in bed together, the worst thing they thought the night before had given them was a hangover.
Now the Maid of Honor is showing up to the wedding pregnant with the Best Man's baby. On the way to their own happy ending, Emma and Silas have to overcome their dislike of each other and the situation. If that isn't enough, the past always has a way of coming back to haunt the present making it anyone's guess if Emma and Silas will play to advantage or commit a foul.