Today is the day that FarSeen releases at all venues. It is part 1 of a 2 part prequel leading into my OtherKind series. March/April 2014 is looking like when Part 2, Night Blind, will release.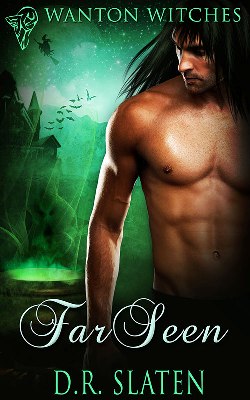 FarSeen had been available through TEB's website for pre-release download. But today is the general release date. I will update buy links as I get them. Sometimes they are slow rolling in. ** Link to Amazon **
In a few days, I'll be doing a Halloween-y Blog Hop. I'm giving away a copy of FarSeen to a lucky commenter. So stay tuned if you want to try and win a copy. Although, it'd be cool if you bought a copy and tried to win a copy. It's like a two-fer. Who doesn't like a two-fer? Everyone likes a two-fer. So try it, you'll like it.
This will be my fourth and final snippet in the FarSeen snippet saga. Too much more and the whole story will be available snippet by snippet. lol Anyway, I'm sticking in the blurb again. The snippet follows the blurb. There are a few other snippets running around my blog. Both of today's release and my other releases. You can either hit snippet in the category box or something to pull them all up. It's small bite sized pieces of goodness.
Blurb:
Taking a break from finding the cure for a magic sickness killing witches, Evangeline (Evie) Parker picks up Drew for a night of hot sex. One night is not enough, however. In strange twist of fate, Trent, Drew's partner also comes into Evie's life. One night is definitely not enough when two becomes three. As they come together, they realize while separately they are good, together they are great.
All Hallows Eve is the time when the cure to the magic sickness is predicted to make itself known. Combining magic and sex on that special night cures more than the magic sickness afflicting the witch community, it also cures three lonely hearts.
FARSEEN is hot and sweet in a small tasty bite. It is filled with sex magic, lit up chakras and hearts slowly opening up to each other.
Snippet:
"You don't think it's just because you are hunting too much? Using too much magic or too often?"
"No, it's more than that. I've drained my magic before. This feels off. I can't quite describe it. Like a rapid discharge of magic instead of a slow trickle of loss. I've been doing my job long enough to be able to accurately estimate my capabilities and the level at which I perform. It's off enough for me to not only notice, but it's kinda scaring me as well. I want to sleep all the time," Ellie said softly. "So I'm not just drained, I'm past drained. Which has never happened to me before I got this sickness. Never. Not once."
This more than anything alarmed Evie. Ellie, for all her carefree attitude in other aspects of her life, was deadly serious about her work. Being the arm of justice for the goddess didn't leave much room for joking. It didn't leave much room for anything other than total dedication.
Evie fought down her alarm. Or at least, tried to prevent it from showing. If Ellie could put on a brave face, continue to do her work, it was the least Evie could do not to add to that burden by showing how upset she was.
"All right, sis, I need to get going as well. Grandma wants me to stop by before she brings in All Hallows Eve tonight," Ellie told her.
"It was good to see you, Ellie. I'll give you a ring tomorrow or the next day, 'kay?" Evie kissed her sister on the cheek and watched her leave.
She sighed. She needed to find a cure and save her sister.